Optimizing Your Plumbing Business Content Marketing Strategy in Atlanta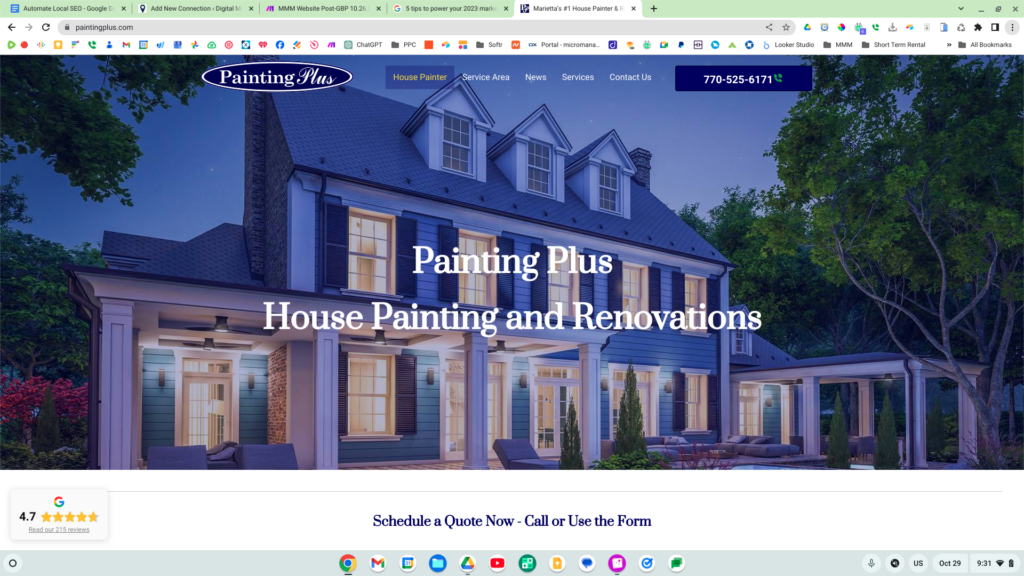 Optimizing Your Plumbing Business Content Marketing Strategy in Atlanta
In today's digital age, having a strong online presence is crucial for the success of any business, including plumbing companies. With so many consumers relying on the internet to find local service providers, it's essential to have a robust content marketing strategy in place to attract and engage potential customers.
If you're a plumbing business owner in Atlanta, you're in luck. MicroManaged Media, Inc. is a digital marketing expert with over 14 years of experience in helping service contractors, including plumbers, elevate their online presence and generate leads. Their expertise lies in developing tailored content marketing strategies that are specifically designed to target the Atlanta market.
But what exactly is content marketing, and how can it benefit your plumbing business in Atlanta? Let's delve deeper.
Content marketing involves creating and distributing valuable and relevant content to attract and retain a target audience. It goes beyond traditional advertising methods and focuses on establishing your brand as a trusted source of information and expertise. By leveraging content marketing strategies, plumbing businesses can build relationships, increase brand visibility, and ultimately drive leads and conversions.
MicroManaged Media, Inc. understands the unique challenges and opportunities specific to service contractors in Atlanta. They specialize in creating high-quality content that speaks directly to the needs and interests of Atlanta residents, positioning your plumbing business as the go-to expert for their plumbing needs.
By utilizing the services of MicroManaged Media, Inc., your plumbing business can benefit from the following content marketing strategies:
1. Targeted Blog Posts: MicroManaged Media, Inc. will create informative and engaging blog posts that address common plumbing issues faced by Atlanta residents. From tips for winterizing pipes to eco-friendly plumbing solutions, their content will demonstrate your expertise and provide valuable information to potential customers.
2. Local Search Optimization: MicroManaged Media, Inc. will optimize your website and content to ensure your plumbing business appears in local search results. This involves implementing local keywords, creating location-specific landing pages, and optimizing your Google My Business profile.
3. Social Media Marketing: MicroManaged Media, Inc. will help you establish a strong social media presence, creating compelling posts that engage your audience and drive traffic to your website. By leveraging platforms like Facebook and Instagram, you can promote your services, showcase your work, and interact with potential customers.
4. Video Content Creation: MicroManaged Media, Inc. understands the power of video marketing and can create engaging video content that showcases your plumbing services. From educational how-to videos to customer testimonials, video content can significantly impact your brand's visibility and credibility.
5. Email Marketing Campaigns: MicroManaged Media, Inc. can develop targeted email marketing campaigns to reach out to your existing customer base and nurture leads. Regularly sending informative and helpful emails can keep your business top of mind when plumbing issues arise.
These are just some of the strategies that MicroManaged Media, Inc. can implement to optimize your plumbing business's content marketing strategy in Atlanta. With their expertise and knowledge of the market, you can expect to see an increase in brand awareness, lead generation, and ultimately, business growth.
So, if you're a plumbing business in Atlanta looking to elevate your online presence and attract more customers, consider partnering with MicroManaged Media, Inc. Their team of digital marketing experts will create a tailored content marketing strategy that allows you to connect with Atlanta residents, showcase your expertise, and grow your business.
To learn more about MicroManaged Media, Inc. and their services, visit their website at https://micromanagedmedia.com/.
Remember, investing in a robust content marketing strategy is an investment in the long-term success of your plumbing business. Don't miss out on the opportunity to make a meaningful connection with Atlanta residents and position your brand as the plumbing service provider of choice.