Value Packed Includes Everything. Hosting, Onpage SEO, Landing Pages, and More.
Get Google Cloud Hosting, WordPress Framework, Security and Content Updates.
Landing Pages That Convert Lookers to Clients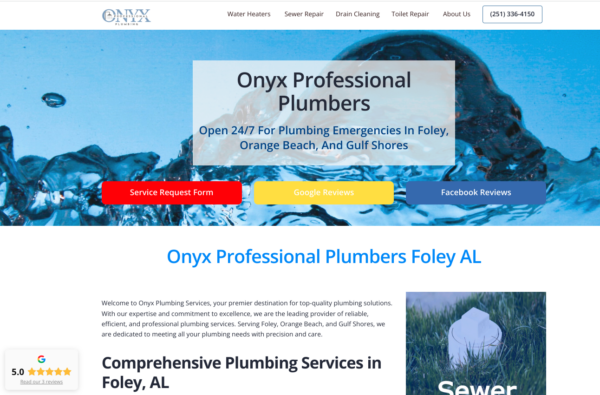 In the contemporary digital landscape, a compelling, well-designed website is critical for any business, and the plumbing industry is no exception. In fact, with increased competition, having a functional and professional website has become an essential tool for plumbers to attract potential customers and showcase their skills and services. However, a great plumber website is not just about aesthetics and functionality; it needs to be built with a strong focus on Local SEO and Google Maps integration to optimize visibility and accessibility.
Building an Effective Plumber Website
Website builders such as Wix, Squarespace, and WordPress offer an array of professional templates and intuitive design tools to create an engaging plumber website. These platforms allow businesses to incorporate their brand elements, images, and descriptions of their services, making the website an effective digital storefront.
Wix and Squarespace are known for their user-friendly interfaces, perfect for those who want a simple yet effective solution. WordPress, on the other hand, offers more flexibility and scalability with an extensive library of plugins for enhanced functionality.
Key Features of a Plumber Website
Here are some key features to consider when designing a plumber website:
Detailed service descriptions: Clearly describe the services you provide, including emergency services, installations, repairs, and maintenance.
Credentials and certifications: Display your licenses, certifications, and any affiliations to build trust with potential clients.
Customer testimonials: Showcase reviews and testimonials from previous clients to demonstrate your expertise and reliability.
Contact details: Prominently display your contact details, including phone number, email, and business address.
Online booking system: A booking system can streamline appointment scheduling and provide a better customer experience.
The Role of Local SEO
Local SEO (Search Engine Optimization) is particularly crucial for plumbers, as it helps businesses reach customers in their immediate vicinity. Local SEO is all about optimizing your website to rank higher in local search results.
For example, when a potential customer searches for "plumber near me" or "plumber in [city name]," Google uses Local SEO signals to show businesses that are most relevant to the user's location. The incorporation of location-specific keywords in website content, meta descriptions, and title tags is a critical aspect of Local SEO.
Google My Business (GMB) is a free tool that lets businesses manage how they appear on Google Search and Maps. By creating and optimizing a GMB listing, you can provide essential business details like operating hours, address, and services offered, all of which get indexed by Google to help improve local search rankings.
The Power of Google Maps Integration
Google Maps integration is another powerful tool for plumber websites. It not only enables potential customers to find your physical location quickly but also improves your website's local search ranking. When your business address is correctly listed on Google Maps and linked to your website, it strengthens the local SEO signals, improving your visibility in location-based searches.
Choosing the Right Hosting Service
Choosing a reliable hosting service is as important as designing a user-friendly website. While website builders like Wix, Squarespace, and WordPress provide their hosting solutions, businesses may also consider other standalone hosting providers like Bluehost, SiteGround, or Google Cloud.
Bluehost and SiteGround are known for their reliable uptime, customer service, and inbuilt control panels for easy site management. Google Cloud, on the other hand, offers a scalable solution that is perfect for growing businesses. With robust security measures and fast load times, Google Cloud is a viable option for businesses seeking flexible and secure hosting services.
MicroManaged Media Provides All Digital Marketing Services for Plumbers
A well-constructed plumber website, complemented by effective Local SEO strategies and Google Maps integration, can significantly enhance a business's online presence. With a strong emphasis on local visibility, potential customers can easily find your business in their local search results, improving the chances of converting them into loyal clients. By leveraging robust platforms like Wix, Squarespace, or WordPress for design, and hosting services like Bluehost, SiteGround, or Google Cloud, you can create a website that not only showcases your plumbing services but also effectively reaches your local target market.
Get a brand new website for just $399/month. This low fee includes unlimited landing page design if you are using our PPC Management service.
All websites are designed by Bob Rutledge. I am the owner of MicroManaged Media, Inc. Everything done in-house means that I can do things fast and efficiently.
You are adding a new service to your expanding business. That means I can add a landing page for your new keywords. It's done quickly and efficiently.
Unless it's a special situation, the additional pages are usually done at no additional cost to the contractor. We do not nickel and dime you to death. We establish long-term relationships knowing that we will get paid for all the work we do sooner or later.