Convert Lookers to Clients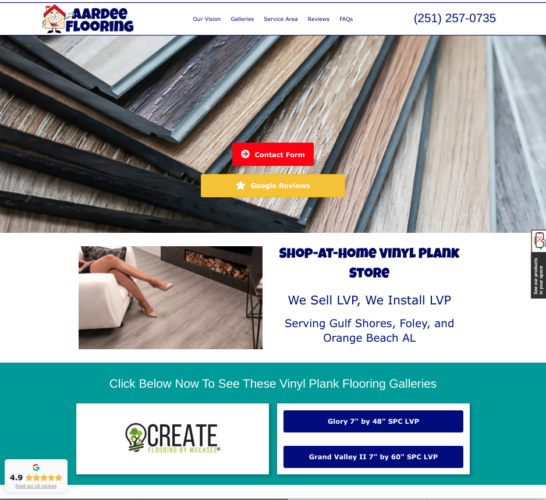 In the ever-evolving digital landscape, a compelling, well-optimized website is a critical component of a successful marketing strategy, and flooring stores are no exception to this rule. Whether you sell hardwood, carpet, laminate, or luxury vinyl tile, having an impactful online presence is an absolute must to attract potential customers and effectively showcase your products. This article will delve into how flooring stores can design a high-performing website, focusing on SEO, local business tools, and strategic partnerships with digital marketing companies known for their work in the flooring industry.
The crux of an effective flooring store website is its ability to offer a seamless user experience, coupled with engaging, informative content. Website builders like Wix, Squarespace, and WordPress make it easy to achieve this, offering intuitive design tools and an array of professional templates.
Wix and Squarespace offer a simplified, user-friendly design experience, while WordPress provides more customization and scalability, offering an extensive library of plugins that can add various functionalities to your site. Regardless of the platform you choose, the goal is to create a site that effectively presents your flooring products, highlights your expertise, and ensures easy navigation for the customers.
Key Components of a Flooring Store Website
A well-structured flooring store website should include:
Detailed product catalog: A comprehensive display of your flooring products, with high-quality images and detailed descriptions, is essential.
Showroom or store information: Include information about your physical location(s), operating hours, and contact details.
Customer testimonials: Sharing customer reviews and testimonials can enhance credibility and help convince potential customers.
Online appointment booking: An online booking system for store visits or consultations can greatly improve customer experience.
Blog or advice section: Sharing expert tips and advice about flooring selection, installation, and maintenance can establish your brand as an authority in the field.
Importance of SEO for Flooring Store Websites
Search Engine Optimization (SEO) plays a pivotal role in increasing your website's visibility. While generic SEO practices are important, local SEO should be a priority for flooring stores to attract customers in their vicinity. Incorporating location-specific keywords in your website's content, meta descriptions, and title tags will help improve your local search ranking.
Google My Business(GMB) is another invaluable tool for improving local SEO. By creating and optimizing a GMB listing, you can control how your business appears in Google Search and Maps, providing potential customers with crucial information such as your address, operating hours, and types of flooring products you offer.
Leveraging Google Maps for Increased Visibility
Integrating Google Maps into your flooring store's website can be a powerful way to improve local search rankings and help customers easily find your physical location. This not only aids in strengthening your local SEO but also enhances the overall user experience on your website.
Choosing a Robust Hosting Service
Selecting a reliable hosting service is critical for website performance. While website builders like Wix, Squarespace, and WordPress offer in-house hosting, you can also consider standalone hosting providers like Bluehost, SiteGround, or Google Cloud for their proven reliability and performance.
Bluehost and SiteGround are well-regarded for their excellent uptime and customer service, while Google Cloud offers a scalable and secure solution suitable for businesses of all sizes.
Partnering with Industry-Specific Digital Marketing Companies
Several digital marketing companies specialize in the flooring industry and can provide valuable assistance in designing and optimizing your website. Companies like FloorForce and Creating Your Space have a deep understanding of the flooring industry and can provide targeted strategies for website design, SEO, and online advertising. Partnering with such companies can help you reach potential customers more effectively and stand out in the competitive flooring market.
MicroManaged Media is a Digital Marketing Company Flooring Stores Consider Hiring
In the end, a well-optimized flooring store website, combined with effective local SEO strategies, Google Maps integration, and strategic partnerships with specialized digital marketing companies, can significantly bolster your online presence. Using platforms like Wix, Squarespace, or WordPress for website design and hosting services like Bluehost, SiteGround, or Google Cloud, you can create a user-friendly and engaging website that not only showcases your flooring products but also effectively reaches your local target audience.
Get a brand new website for just $399/month. This low fee includes unlimited landing page design if you are using our PPC Management service.
All websites are designed by Bob Rutledge. I am the owner of MicroManaged Media, Inc. Everything done in-house means that I can do things fast and efficiently.
You are adding a new service to your expanding business. That means I can add a landing page for your new keywords. It's done quickly and efficiently.
Unless it's a special situation, the additional pages are usually done at no additional cost to the contractor. We do not nickel and dime you to death. We establish long-term relationships knowing that we will get paid for all the work we do sooner or later.