Value Packed Includes Everything. Hosting, Onpage SEO, Landing Pages, and More.
Get Google Cloud Hosting, WordPress Framework, Security and Content Updates.
Landing Pages That Convert Lookers to Clients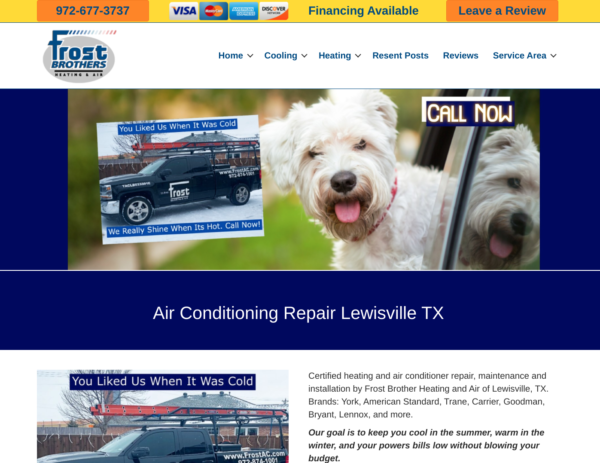 In the past two decades I've designed over 300 websites. That means I've written the content for almost every single page.
I've designed all the graphics and photographs with two goals in mind:
Local Search Engine Marketing
Convert traffic into callers and customers.
Individual landing pages for all the primary keywords you are trying to rank for or running Google Ads for are key to convert clickers into callers.
Experience is the key to any successful business. Our website design includes over 300 different websites for over 20 different years. We now use WordPress as the backbone of our websites.
Google Cloud Servers
All of the websites I manage are on Google hosting. That means it's safe, secure and fast!
Designing a top-quality HVAC (Heating, Ventilation, and Air Conditioning) website entails much more than merely incorporating attractive graphics and catchy slogans. The essence of a successful HVAC website design lies in its ability to deliver clear and concise information about services and products, combined with an effortless and seamless user experience.
Prominent website builders like Wix, Squarespace, and WordPress play a crucial role in creating an engaging HVAC website. These platforms come with intuitive interfaces that make it easy for even non-tech-savvy individuals to design and manage their sites. Furthermore, they offer a broad range of design templates, some of which are tailored specifically to the HVAC industry, providing an ideal base to create a professional and visually appealing website.
While Wix and Squarespace allow HVAC companies to quickly design and launch their websites, WordPress offers a more flexible and scalable solution. With its vast plugin ecosystem, WordPress can provide advanced functionality like online booking systems or interactive service maps. Additionally, it supports Search Engine Optimization (SEO) plugins like Yoast SEO to improve the site's visibility in search engine results, a vital aspect of digital marketing for HVAC businesses.
Once the design phase is complete, the next crucial step is selecting a reliable hosting service for the HVAC website. While many website builders offer their hosting services, companies may consider opting for standalone hosting providers like Bluehost, SiteGround, or even Google Cloud for more control and flexibility.
Bluehost and SiteGround, renowned for their customer service, provide robust hosting services with inbuilt cPanel control panels, enabling easy management of the website. Moreover, they offer excellent uptime, assuring that the website is always accessible to potential customers.
On the other hand, Google Cloud offers an expansive and scalable hosting solution that grows with the business. Given the potentially fluctuating demand of HVAC services across seasons, the flexibility of Google Cloud is a significant advantage, allowing businesses to scale resources up or down based on need. Additionally, the Google Cloud Platform comes with superior security measures, ensuring that sensitive customer data remains protected. Lastly, given Google's global infrastructure, sites hosted on Google Cloud typically have fast load times, which is beneficial for both user experience and SEO.
Besides design and hosting, HVAC websites should also incorporate key features to enhance customer experience. An online appointment scheduling system, a detailed catalogue of services and products, customer testimonials, and a blog section for tips and advice are few such features that can significantly improve user engagement. The integration of Google Maps can also be beneficial, allowing potential customers to easily locate the business.
In the era of smartphones, it's critical that HVAC website designs are responsive, meaning they can adjust to various screen sizes for optimal viewing. Fortunately, website builders like Wix, Squarespace, and WordPress, along with hosting services like Google Cloud, support the creation of mobile-friendly websites.
To conclude, a well-designed HVAC website, built on reliable platforms like Wix, Squarespace, or WordPress, and hosted on robust hosting services such as Bluehost, SiteGround, or Google Cloud, can significantly enhance an HVAC business's online presence. The right blend of design, functionality, and hosting can not only attract potential customers but also build trust and foster long-term relationships
Get a brand new website for just $399/month. This low fee includes unlimited landing page design if you are using our PPC Management service.
All websites are designed by Bob Rutledge. I am the owner of MicroManaged Media, Inc. Everything done in-house means that I can do things fast and efficiently.
You are adding a new service to your expanding business. That means I can add a landing page for your new keywords. It's done quickly and efficiently.
Unless it's a special situation, the additional pages are usually done at no additional cost to the contractor. We do not nickel and dime you to death. We establish long-term relationships knowing that we will get paid for all the work we do sooner or later.